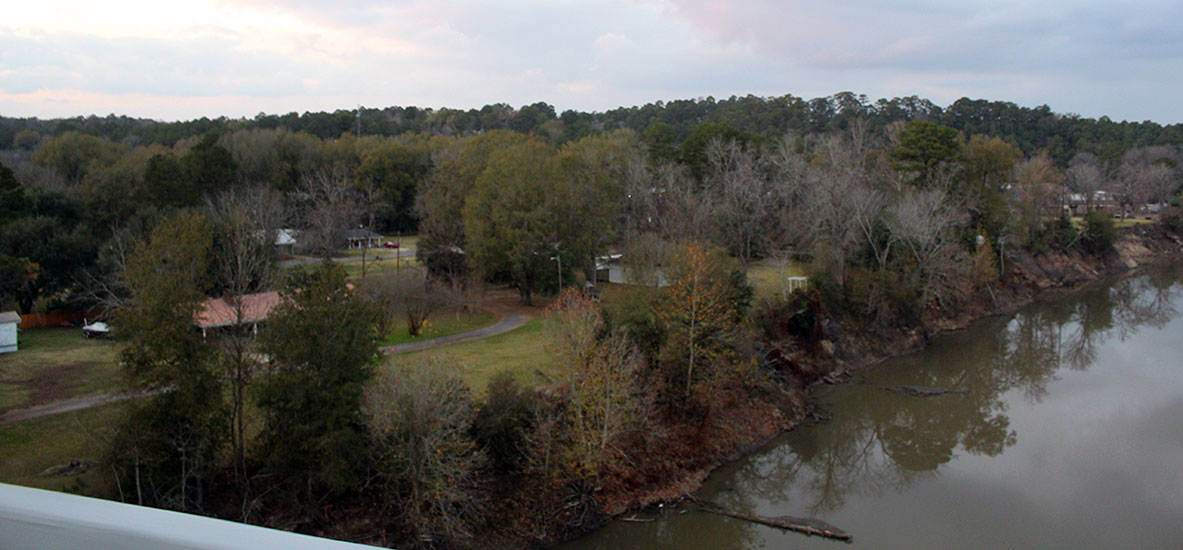 Harrisonburg, Louisiana
Whether you are surfing the internet or a visitor in person to our town. We believe you will agree that "Harrisonburg is a great place to recreate, to enjoy nature, to dine, to sight-see, to relax, to retire, to explore history and to worship God."
Louisiana is divided into parishes rather than counties, county seats are referred to as parish seats. Harrisonburg is located in the parish seat of Catahoula Parish, Louisiana.
Indians, early explorers, the Civil War and modern progress have left their mark upon this unique little village.
Harrisonburg comprises two Indian mounds not far from the Ouachita River, in the modern community of Harrisonburg. The larger mound (Md. A) is conical, about 10 feet tall and 115 feet at its base, with a small family cemetery atop it. Coring shows it was built in a single stage. No material adequate for radiocarbon dating was recovered, but soil weathering and the presence of a few ceramics indicate it was probably built about AD 200 (Marksville period). The second mound (Md. B) wasn't identified until the 1990s. It's about 200 feet northeast of the larger mound and measures about 3 feet tall and 115 by 100 feet at the base. Coring shows it was also built in a single stage. Soil weathering suggests that it was built earlier than the other mound, and may date to before 500 BC (Late Archaic period). The Native American Indian Mounds of Catahoula Parish
A small fur trading station was located there prior to the Village. There is reason to believe that this outpost trading station dates around 1712-14, thus challenging Natchitoches and Montgomery LA's claims of being the oldest in LA. So, at least Harrisonburg may be the 3rd oldest settlement in the LA.
The Daughters of American Revolution placed a commemorative plaque at the intersection of LA 's Highways 8 and 124. "This marker commemorates the Old Natchitoches-Natchez Road-Harrisonburg Road which connected the San Antonio Trace- El Camino Real with the Natchez Trace."
In 1819 Harrisonburg was the site of the Steamboat James Monroe's Landing on its first trip in LA, a twelve day excursion from New Orleans to Harrisonburg. The first steamboat that ever ran up the river was the 'James Monroe' and was commanded by Captain Nascarrow in 1819. This boat continued on up the Ouachita to "Post of Ouachitta". The thrill of the boat's landing created such a "jubilee" that they changed the name of the settlement to Monroe!! .
Fort Beauregard, which is located a fourth of a mile outside the village, was a Confederate stronghold during the American Civil War. In 1863, the fort successfully defended Harrisonburg from the attack of four Union gunboats coming from the Black River to the Ouachita River. The village of Harrisonburg formerly stages reenactments at Fort Beauregard, also known as Fort Hill, each year.